Client Experience is the new Battleground for Lenders
The season of giving is upon us and as a 25-year commercial banking veteran, I understand that it is the time of year to celebrate our successes and to recognize our employees. It is also the time of year to give back to our clients, not just with a holiday card or a gift basket, but by way of enhancing their experience.
Our clients long for a beneficial and positive borrowing experience, and they expect their bankers to "know" who they are.  Clients also expect anyone involved in their credit facility origination, funding, renewal & review process to understand what is transpiring without having to explain themselves over and over again.  When bank-wide and customer communication is under control, the banker can focus on delivering high-quality and high-touch service, and the client can focus on their business.  When banks, credit unions and lenders automate and digitize their internal process, they develop efficiencies that benefit the bank and their clients.
Concerns small-to-medium sized businesses have with the lending process
In order to provide an effective client experience, you must first understand what issues the client may have experienced in the past when it relates to be being a borrower.
Checklists not provided
Was asked for the same document more than once
Loan was not closed on time
Redundant questions from the Loan Officer/Relationship Manager or Underwriter/Processor
Borrower had to call for updates and/or the banker didn't know the status
Insecurity when it comes to sending sensitive information to the Bank
Certainly, there are several more concerns, but those are some of the points the Bank can control.
Improve your response & closing times with the right solution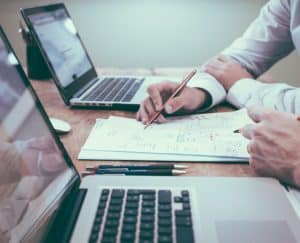 In the spirit of giving back to the client, there are techniques Banks are using today to not only improve their internal efficiencies and profit, but to provide clients with better response and closing times, communication & document exchange.  First-off the Bank must be able to map out the entire end-to-end borrower experience.  Keeping in mind that the borrower experience for commercial lending institutions doesn't simply end at loan funding, so having a solid loan servicing system (ticklers, covenant review, portfolio management, etc.) is also critical.  The Bank must then look for and pinpoint the specific areas that can be automated within the end-to-end process.
Banking industry leaders are looking beyond their typical, and sometime unpredictable, labor intensive tactics to discover ways to evolve their end-to-end workflow amidst their specific competitive landscape.  Modern intuitive technologies are empowering Banks, Credit Union and other lenders to increase cost saving efficiencies while at the same time taking out the inconsistency of costs.  The lifeblood of the Bank is still going to be the client, so these efficiencies should benefit the client as well, thus increasing their loyalty and willingness to refer business to the Bank.  Implementing a robust commercial lending workflow system allows financial institutions to enhance the client experience & provide such efficiencies.
Credit Track improves your Client Experience
At Global Wave Group, our combined 100-years of experience as bankers gives us the ability to understand borrower expectations & workflow processes.  We developed Credit Track to help Banks minimize internal redundant functions, increase efficiencies, strengthen internal/external communication and increase their delivery speed.  Credit Track provides the Bank with an exceptional ROI & provides their clients with positive experiences that they can recommend to their peers.
The Client Experience is the new battleground for lenders.  The technology and automation-workflow mindset has created a client that has increasingly high expectations and therefore the process our clients go through can no longer be postscript.
Let's talk about how we can improve your commercial lending workflow process within in your organization.
Contact us at 888-315-4704
About The Author
Josh Young is a Regional Sales Manager for Global Wave Group and is responsible for new partner acquisition.  Mr. Young is a 25-year commercial banking veteran, spending the past 10 years in Senior Management roles, specifically running Commercial Banking Departments.  Skilled in underwriting, risk analysis, sales & portfolio management, Josh understands the value of workflow automation to develop internal efficiencies and cost control, which enhances client experience.
https://globalwavegroup.com/wp-content/uploads/2019/12/banks-improve-customer-experience.jpg
1560
2400
18PYTCz0YIQL6Zh
https://globalwavegroup.com/wp-content/uploads/2023/03/Global-Wave-Group-Logo.png
18PYTCz0YIQL6Zh
2019-12-18 18:19:06
2023-03-15 21:30:34
Client Experience is the new Battleground for Lenders